SUMMER CONCERT
Sunday, July 25th
3:30pm
Glen Miller Park
Bandshell at Roosevelt Hill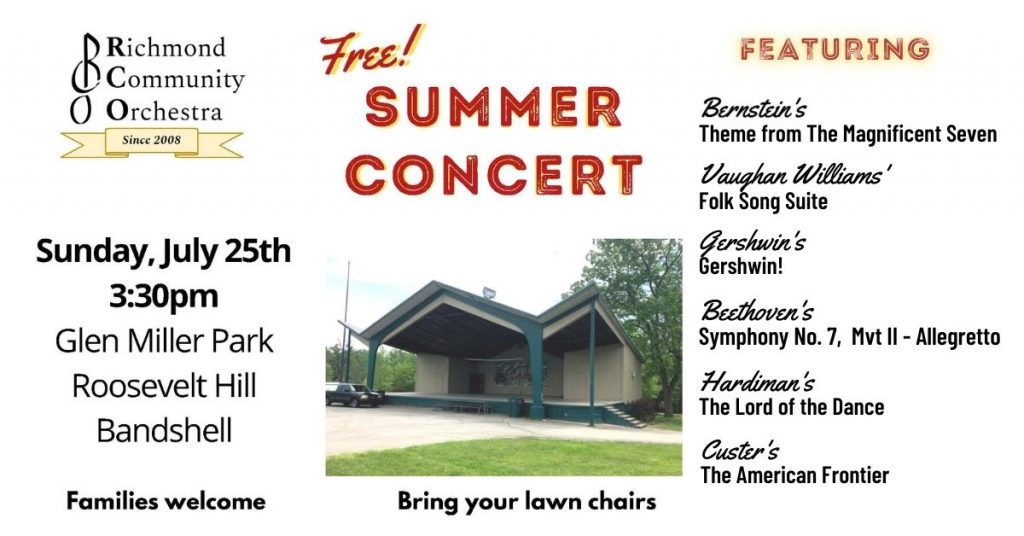 Program Notes:
Magnificent Seven by Elmer Bernstein
The Magnificent Seven is a 1960 American Western film directed by John Sturges and starring Yul Brynner, Eli Wallach and Steve McQueen. The supporting cast features Charles Bronson, Robert Vaughn, Brad Dexter, James Coburn and Horst Buchholz. The film is an Old West–style remake of Akira Kurosawa's 1954 Japanese film Seven Samurai. There are 4 films in the original series (that use Bernstein's music) and a modern remake that does NOT use the original music.

The Magnificent Seven (1960)
Return of the Seven (1966)
Guns of the Magnificent Seven (1969)
The Magnificent Seven Ride! (1972)
The Magnificent Seven (2016)


English Folk Song Suite by Ralph Vaughn Williams 1872 – 1958
Originally for Military Band 1923 "Folk Song Suite", orchestrated for full orchestra by his student in 1923 as "English Folk Song Suite".
Arranged for British-style brass band in 1956 by Frank Wright and published as English Folk Songs Suite.
The second movement is a ballad "My Bonny Boy" with lyrics about a broken-hearted girl who gave her heart to a lad who ran off and found another lass.
My Bonny Boy

I once loved a boy and a bonny bonny boy,
I loved him I vow and protest,
I loved him so well, there's no tongue can tell,
Till I built him a berth on my breast.

'Twas up the wild forest and through the green groves
Like one that was troubled in mind,
I hallooed, I whooped and I blew on my flute
But no bonny boy could I find.

I looked up high and I looked down low
The weather being wonderful warm;
And who should I spy but my own bonny boy
Locked fast in another girl's arms.

He took me upon his assembled knees
And looked me quite hard in the face,
He gave unto me one sweet smile and a kiss
But his heart's in another girl's breast.

Now my bonny, bonny boy is across the salt seas
And I hope he will safely return;
But if he loves another girl better than me
Let him take her, and why should I mourn?

Now the girl that enjoys my own bonny boy,
She is not to be blamed, I am sure,
For many's the long night he have robbed me of my rest
But he never shall do it no more.
3. GERSHWIN! George Gershwin 1898-1937
Arranged by Jay Conard.
Most of Gershwin's hits had lyrics written by his brother Ira.
Gershwin went to Europe to try to find a teacher among the 'serious' composers of the day. Maurice Ravel's rejection letter to Gershwin told him, "Why become a second-rate Ravel when you're already a first-rate Gershwin?" Gershwin died after an operation to remove a brain tumor in July of 1937.
This medley contains the following songs (notice only one included does NOT have lyrics by his brother Ira):
Intro uses "I Got Rhythm" and "Fascinating Rhythm".
'SWonderful (1927 w/ Ira)
Someone to Watch Over Me (1926 w/Ira and verse)
Swanee (1919 lyrics by Irving Caesar – made famous by Al Jolson)
Our Love Is Here to Stay (1937 w/Ira) Last composition George Gershwin completed. Lyrics completed after George's death. Verse reconstructed by Oscar Levant.
Embraceable You (1928 w/Ira)
Let's Call the Whole Thing Off (1937 w/Ira) Verse included here. Fred Astaire and Ginger Rogers performed this duet on ROLLER SKATES!!!
I've Got Rhythm (1928 w/Ira) Famously belted out by Ethel Merman.
We know of Gershwin's prowess on the piano by recordings and piano rolls he made.
4. Beethoven's Symphony No. 7 – 2nd Movement – Allegretto
Beethoven was born in December of 1770 (last year marked the 250th anniversary of his birth. Symphony #7 was written in 1811-1812 and premiered in 1813. He felt it was his finest symphony to date and is the most organic with four separate movements in a very standard form – no big new technics but rather a very cohesive fully realized piece. The 2nd movement was so well received that it was encored at the first performance and many times just the 2nd movement was programmed by itself without the rest of the symphony.
5. LORD OF THE DANCE by Ronan Hardiman (1961- )
Irish composer for the Lord of the Dance – Cry of the Celts
Includes music from Hymn tune "Simple Gifts" included in many church hymnals as "Lord of the Dance" and also music by Ronan Hardiman ("Cry of the Celtics") used in the dance sensation of the same name. A Tour de Force of violin techniques – including some 'fiddling.'
6. American Frontier arr. by Calvin Custer (1939-1998)
This medley of American tunes includes: "The Girl I Left Behind", an old Irish tune used by the British and U.S. military. It is still played at West Point during final formations at graduation; "Chester", a New England hymn-tune by William Billings written around the time of the Revolutionary War; "Oh Susanna" by Stephen Foster; "Shenandoah", a tune used on sailing ships, and ends with a stirring version of "America, the Beautiful."
Orchestra Members
VIOLIN 1

Anita Crull — Concert Mistress

George Carr
Ana Aquino-Roja
Barb Myers
Jaime Perez-Orduno

VIOLIN 2

Beverly Doyle
Dick Miller
Cynthia Fadem
Ted Halsted

VIOLA

Michael West
Gloria Morgan

CELLO

Kelly Remo
Miriam Zimmer
Ray Ontko
Eevett Loshek

BASS
PIANO
PERCUSSION

Rod Blanchford
Michael Buchholz
Kendale Hamilton

FLUTE

Sheryl Mabry
Carolyn Miller
April Sanders
Ashley Phenis

CLARINET

Don Miller
Carolyn Gardner
Cathy Ackerman

SAXOPHONE

Amy Bryant – Alto/Soprano
Sophie Kochensparger – Tenor

HORN
TRUMPET

Steven Stoller
Henry Kochensparger
Caleb Scott
Charles Kochensparger

TROMBONE/EUPHONIUM
TUBA